Parking
Approximately 6,500 parking spaces are available within 1,800 feet of Enterprise Center, including a 1,270-car garage situated immediately adjacent to the building. In addition, many nearby parking garages and surface lots offer affordable, convenient access to Enterprise Center. "Enterprise Center Parking" signs at the entrances to additional parking facilities should help in directing Enterprise Center guests to appropriate parking. Two-hour metered parking is also available on many streets surrounding Enterprise Center.
Box Office Parking
15-minute parking for ticket purchases at Enterprise Center's Box Office is available on Clark Avenue in front of the Box Office. Short-term parking is also available in the attached garage.
Guest Drop-Off / Pick-Up Procedures
SLPD closes 14th Street between Market and Clark at door time for all events. The street remains closed throughout the event and until the officers make the decision it is safe to re-open. Any guest being dropped off or picked up should do so on Market or on Clark.
Nearby Parking Options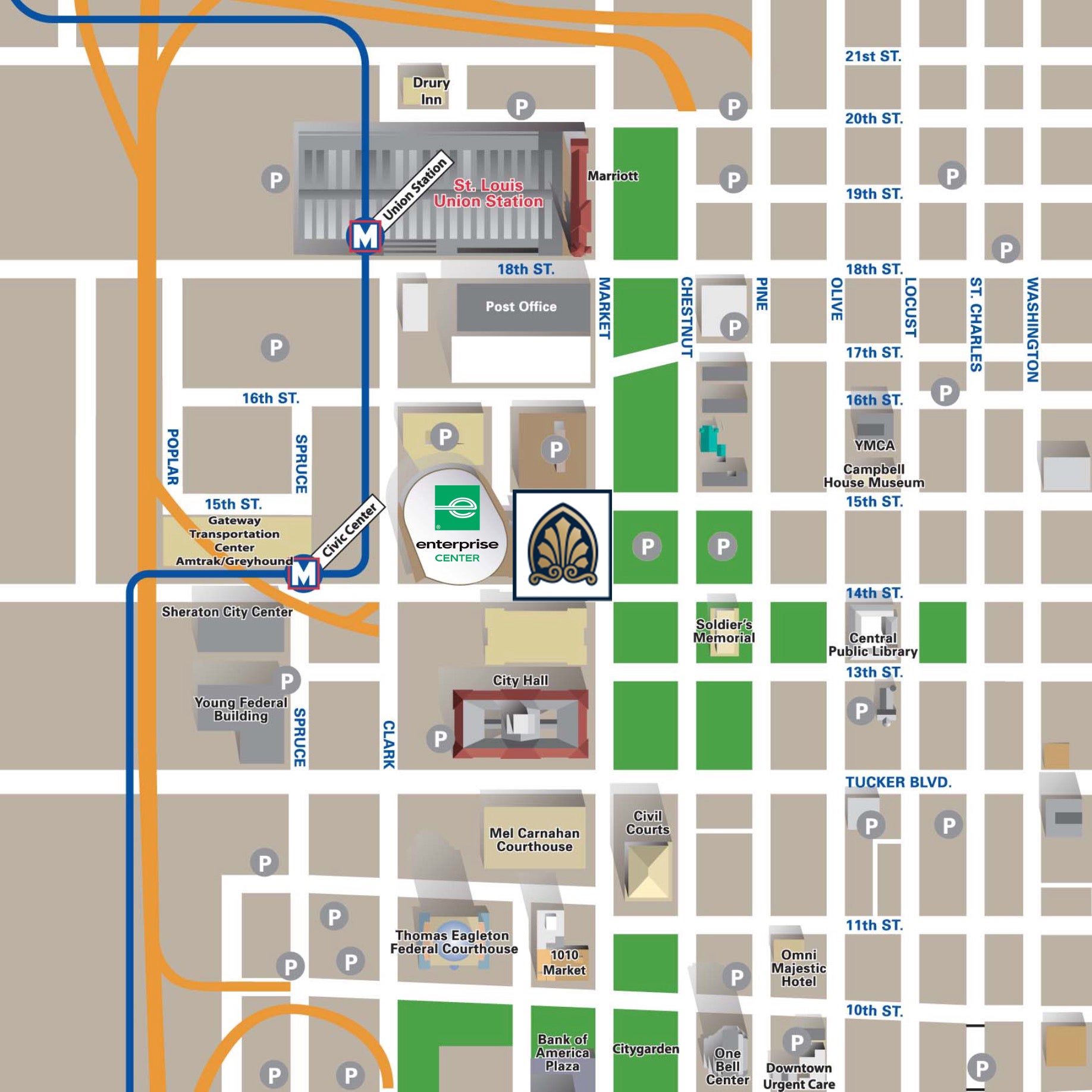 Lot #
Location
Agency
1
Kiel Center Garage
Corner of Clark & 16th
City
2
Williams Paper Co. Lot
16th & Spruce
City
3
417 South 15th Lot
16th & Spruce
US
4
427 South 15th Lot
16th & Poplar
US
5
16th & Clark Lot
SLP
6
Union Station South Lot
18th & Clark
SLP
7
Union Station West Lot
20th Street
SLP
8
Municipal Parking Plaza
Corner of Clark & Tucker
City
9
St. Louis Sheraton City Center
14th & Spruce
CP
10
13th & Spruce
Behind Sheraton Hotel
CP
11
1303 Spruce
Tucker & Spruce/Clark
US
12
Municipal Parking Garage
Clark & Tucker
City
13
11th & Poplar Lot
Spruce & 11th
US
14
Cupples (Valentine Lot)
Off of Clark
SLP
15
11th & Clark Lot
Clark & 10th
SLP
16
Cupples Station Garage
Spruce & 10th
City
17
City Block 426 Lot
West of The Westin Hotel
SLP
18
Cupples Lot
10th & Spruce
SLP
19
20th & Chestnut West Lot
20th & Pine
SLP
20
20th & Chestnut East Lot
19th & Pine
SLP
21
20th & Pine
S & H
22
20th & Olive
S & H
23
18th & Chestnut Garage
Corner of Pine & 17th
SLP
24
1881 Olive
S & H
25
St. John's Church (M-F after 6pm)
15th & Pine
S & H
26
16th & Olive (M-F after 6pm)
All day Saturday & Sunday
S & H
27
Parkside Lot
15th & Olive
SLP
28
Parkside Garage
14th & Pine
SLP
29
Park Pacific Garage
Tucker & Olive
City
30
306 N. Tucker Lot
Tucker & Olive
CP
31
Tucker & St. Charles Lot
Tucker & Locust
SLP
32
1215 Olive Lot
Olive & 13th Street
SLP
33
14th & Locust
CP
34
1409 Washington Lot
Washington & 14th Street
S & H
35
1601 Locust Street Lot
16th & St. Charles
CP
36
1800 Washington
18th & St. Charles
S & H
37
20th & Locust Lot
19th & St. Charles
SLP
Downtown Parking Contacts
Central Parking (CP) 314-421-4063
CitiPark (Citi) 314-241-1918
City of St. Louis (City) 314-622-4414
S&H Parking (S&H) 314-621-1600
St. Louis Parking (SLP) 314-241-7777
Union Services (US) 314-421-1876
Entrances
There are three public entrances at Enterprise Center:
T-Mobile Entrance (Gate 1) is located on the west end of the arena, Hall of Fame Plaza (Gate 2) is located on the south end of the arena and Ford Entrance (Gate 3) is located on the east end of the arena. Doors open one hour prior to most events.
The Club Level (Gate 4) is located on the fourth level of the attached garage.This entrance opens an hour prior to most events and is reserved for suite holders and guests with club seats.